Here some Happy Birthday Quotes Picture that you can sent to your friend. 😀

Yesterday brought
the beginning.
Tomorrow brings
the end. and
somewhere in
the middle we
became the
best of friends.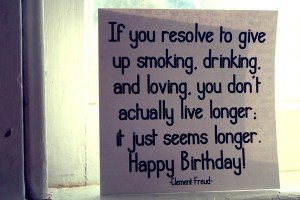 If you resolve to give
up smoking, drinking.
and loving, you don't
actually live longer
it just seems longer.
Happy Birthday!
~Clement Freud
Thinking of you and the
good times we spent…
make me smile!
Happy Birthday to a friend
who always close
to my heart.
There angels are coming your way…
with lots of love from me to say…
have a very
Happy Birthday
A wish for you on your birthday,
whatever you ask,
may you receive,
whatever you seek,
may you find
whatever you wish,
may it be fulfilled.
on your birthday & always.
Happy Birthday
Wishing you a day of
wonderful moments
on your birthday to
warm your heart
and make every little
thing a lovely remembrance
the whole year around
~ Rosie Cash