You know you love someone when you know you want them to be happy, even if their happiness means that you are not a part of it. Anonymous
The walls we build around us to keep sadness out also keeps out the joy. Jim Rohn
If i had to choose between loving you and breathing, then i would use my last breath to say I love you.. Latchmie Mayers
Beginnings are scary. Endings are usually sad, but it's the middle that counts the most. There's nothing more depressing than having it all and still feeling sad.
It's easy to cry when you realize that everyone you love will reject you or die. Chuck Palahniuk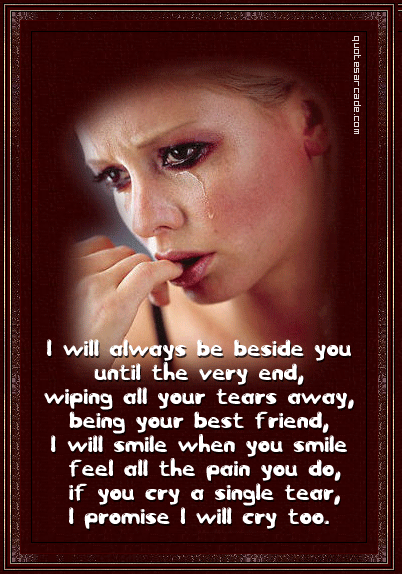 I will always be beside you
until the very end,
wiping all your tears away,
being your best friend,
I will smile when you smile
feel all the pain you do
if you cry a single tear,
I promise I will cry too
Love gave someone the power to break you.
I'd been broken beyond repair
If one day…
if one day you feek kije crying. call me…
I don't promise…
that I will make you laugh
but I can cry with you
If one day you want to run away
don't be afraid to call me.
I don't promise…
to ask you to stop,
but I can run with you.
If one day you don't want to listen
to anyone..
call me….
I promise to be there for you.
and I promise to be very quiet.
but if one day you call me…
and there is no answer.
come fast to see me.
Perhaps I need you.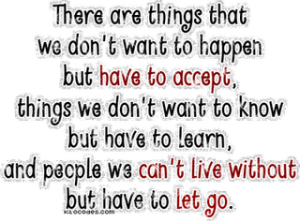 There are things that
we don't want to happen
but have to accept
things we don't want to know
but have to learn,
and people we can't live without
but have to let go.
Don't wait until it's too late
to tell someone
how much you love,
how much you care,
because
when they're gone
no matter how load
you shout and cry,
they won't hear you anymore