You can never be
" Just friends"
with somebody you use
to love, simply because
little part of you will
always love them
Take my hand
and with it comes
My
Heart
Soul
Love
Trust
Faith
Hopes
Dreams
Past
And future
Take my hand
And with it
All I have
All I am
Is forever yours.
Eyes were made to see
ears were made to hear
mouths were made to speak
hearts were made to love
and I was made to Love you 🙂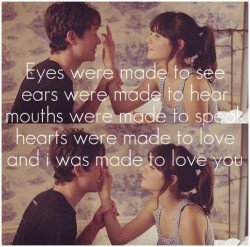 Dear boyfriend.
just seeing your face
instantly brightens my day.
just hearing your voice
makes my heart beat faster.
and just knowing how much
you love me makes me
feel like I can fly
What it Love ?
Love is when
someone breaks
your heart and the
most amazing
thing is that you
still love them
with every broken
piece…