My mama told me that
sometimes people have to cry
out their tears to make room
for a heart full of smiles.
If you don't go after what you want, you'll never have it.
If you don't ask, the answer is always no.
If you don't step forward, you're always in the same place.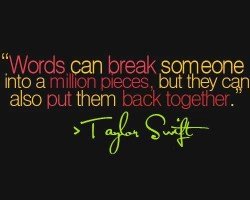 " Words can break someone
into a million pieces, but they can
also put them back together"
~ Taylor Swift

Ladies :
Place your heart in the
hands of God and he
will place it in the
hands of a man who
he believes deserves it.
Remember that
being called weird
is like being called
Limited Edition
And it means you
are something
people don't see
that often
Be proud of it